Release Blitz, Excerpt & Giveaway:
Across the Sapphire Sea By Lee Colgin
Immortal Jewels Volume II
Love at first… death. "Do it. Kill him for me. Take me with you."
Elias—plucked from indentured servitude at nineteen and turned into a vampire—is caught in a downward spiraling relationship with his possessive sire.
Valeri—a damaged soul who guards his secrets and his fledgling alike—balances on a razor's edge of good and evil.
In a race to save one of their own from a deadly sickness, Valeri and Elias lead an unlikely team on a dangerous voyage to pry secrets from an ancient group of vampires. But these vampires are hidden for a reason, and they've been known to kill trespassers.
The closer the team comes to discovering the truth, the wider the rift between Elias and Valeri grows—until Elias doubts the relationship can be saved.
Will they find a cure in time? Can Elias and Valeri make it to the other side together, or will ancient secrets shatter their bond forever?
***
Across the Sapphire Sea is an MM Paranormal romance packed with adventure, a steamy love story, and danger at every turn. This is book two of a series and contains its own story and HEA with no cliffhanger, but author recommends reading Beneath the Opal Arc first for the most enjoyment. Novel contains scenes intended for mature readers, full warnings inside.
Excerpt:

Valeri reached forward, placing his hand inside Elias's cloak to touch the bare skin of his waist. With gentle pressure, he pulled. Elias took the cue and closed the gap between them, close enough to bump chests. He gave in to the urge to connect, taking Valeri's shoulders in his grip. Valeri smelled of horse and leather, and Elias breathed deep, taking the scent into his nostrils and committing the moment to memory. Beginnings had a way of being tenuous. Elias wanted to pin this one down. Define it. Solve the mystery of the stranger for himself. "What do you want from me?" Elias whispered. Valeri's lips parted. "Everything." Eyes wide, Elias dropped his gaze to Valeri's mouth. "Ask me what I shall give you in return," Valeri ordered. The alluring resonance of his voice raised the hairs on Elias's neck. "What will you give me in return?" "Everything." That one word held more temptation than all the others that had come before. He needed what Valeri offered. Elias leaned in to kiss him. A soft press of lips, no more, but the touch sent fire to his groin. Valeri moved to deepen the kiss, but Elias held back, his restraint a tattered cloth threatening to rip. Any attempt he made to resist would be futile. The demon had saved him from a lifetime of hard labor and suffering. Elias was half in love with him for that alone. He didn't want to resist, but there was something he had to know first. Elias searched Valeri's face. "What are you?" "What do you think?" "A demon," Elias dared to say. Valeri let out a low rumble of laughter; Elias could feel it in his own chest. "Not a bad guess, but no, not a demon." "Then what?" "I am a vampire, sweet Elias. Do you know the word?" Elias froze, air caught in his throat. "I do." Valeri's eyes glistened with interest. "Do I frighten you?" Elias kissed him again, feather soft, his answer mumbled against Valeri's lips, dangerously close to those terrifying teeth. "Yes." "Yet you do not run." "Would running save me?" "No." "Do you drink blood?" Valeri's eyes were positively gleaming, acorn brown and intensely scrutinizing. "Yes." The question ran through Elias's mind before he said it out loud. He already knew the answer, but the words came tripping out anyway. "Will you drink my blood?" "Would you like me to?" Valeri made the act sound like an offer, a gift. "I should say no." "You should say…" Valeri lifted a finger and placed it on the tip of Elias's nose, "what you'd like."
---
Catch up on the series with
Beneath the Opal Arc
The love story of a witch who saves the world and the vampire who saves him.
As the battle rages around him, Laurence stops to witness a witch casting a powerful magical arc. Werewolves race past, running for cover, but Laurence can't tear his gaze from the vulnerable spellcaster.
When Remy is injured, he doesn't expect a vampire to come to his rescue. What is he to Laurence if not dinner? But Laurence carries him to safety, ensures he gets treatment, and protects him from a pack of angry werewolves.
No one knows how long the magical arc will hold. Frightened by what might happen when it falls, Remy needs to escape the frontlines and find a safe haven before his own people hunt him down for treason.
As sparks fly between the unlikely pair, can they find solace in love, or will the supernatural war claim two more victims?
Beneath the Opal Arc
~A vulnerable witch lost on enemy soil ~A lonely vampire fighting to protect his charge ~A love story neither of them saw coming
Beneath the Opal Arc is an MM Paranormal Romance packed with adventure, a steamy love story, and danger at every turn. This novel contains violence and scenes intended for mature readers. This is book one of a series, and though some threads are left for book two, there is no cliffhanger. These characters get their HEA with another adventure yet to come!
---

Enter the Giveaway:
To celebrate the release of Across the Sapphire Sea, Lee is giving readers the chance to win a $5 gift card and two e-copies of her stand-alone MM Romances;
Enter the giveaway HERE for your chance to win!
Direct Link: https://kingsumo.com/g/icdr3d/across-the-sapphire-sea-book-launch-giveaway
---
About the Author
Lee Colgin has loved vampires since she read Dracula on a hot, sunny beach at 13 years old. She lives in North Carolina with lots of dogs and her husband. No, he's not a vampire, but she loves him anyway. Lee likes to workout so she can eat the maximum amount of cookies with her pizza. Ask her how much she can bench press.
Connect with Lee:
Website: http://www.leecolgin.com Facebook Group https://www.facebook.com/groups/leecolgin/ Facebook Profile https://www.facebook.com/authorleecolgin Newsletter: https://mailchi.mp/d04e03b10ccf/leecolgin Twitter: https://twitter.com/leecolgin Amazon author page: amazon.com/author/leecolgin Goodreads: https://www.goodreads.com/leecolgin BookBub: https://www.bookbub.com/authors/lee-colgin
---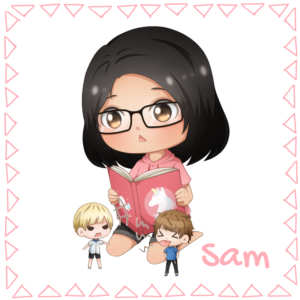 Fan de MM et plus particulièrement des single dads (ça marche aussi avec les oncles, les grands frères etc…) , des MMM et d'Urban Fantasy.