Get to know the secretive men of Infinity nightclub as they find love in the most unexpected places. True love has no beginning or ending…it simply is.
They are standalone stories, but characters from previous books make appearances in successive books.
Book Title: Worth the Risk, Infinity #1
Author: C.J. Lynne
Publisher: Self-published
Cover Artist: C. J. Lynne
Genre/s: LGBTQ, Romance, Erotic
Length: 154,000 words/362 print pages
Blurb
Love doesn't exist…
Or so Tyler Johnson thinks. He's never had much, if any, of it thrown his way. A chance meeting with the enigmatic Jaxon Markham causes Ty to—if still not believe in love—at least know without a doubt that lust is alive and well. Ty's not looking for forever, but what's the harm in spending a few days, and scorching nights, with Jax—as long as Jax plays by his rules and keeps things casual and uncomplicated?
Jax knows his luck has finally changed for the better when he lays eyes on Tyler. The man is gorgeous, and stirs feelings in Jax he'd never thought he would experience. The more time Jax spends with Ty, the more certain he is that Ty's his soulmate. Now all that remains is convincing the stubborn Tyler of that elating fact. Jax is more than up for the task, because he's nothing if not persistent—a fact the elusive Tyler is soon made aware of.
Jax quickly, and much too easily, demolishes all of Ty's protective walls and Ty reluctantly begins to think that maybe, just maybe that intangible
emotion called love is alive and well after all, and perhaps finally within his grasp. However, when his ugly past returns to haunt him, making him doubt all the good he's experienced with and because of Jax, Ty's positive outlook crumbles, giving way to doubt, fear and despair making him wonder if he can truly be the man Jax needs and deserves—or will past and present demons destroy Ty's one chance at true happiness?
Excerpt
"Since we've been dating for a week, and after last night—which was fucking fantastic by the way," Jax began. "Can I—"

"I totally agree," Ty interrupted around a kiss.

"Mmmm, good." Jax nibbled at his lower lip. "In that case, I hope I've proven I'm not a loon."

"You wouldn't be here if you hadn't," Ty assured him with a chuckle.

"Good to know." Jax fingered his hair before resting his arm along the back of the sofa. "Since you now trust me to know where you live, have invited me into your home, bed and…your body—for which I'm very grateful, I might add."

"Yes?" Ty's breath arrested at Jax's statement and the downright decadent look in his eyes.

"I was thinking that maybe I can know your last name." Jax gave him a wink and begged, "Please?"

Ty's chuckle quickly morphed into a full-blown laugh as he leaned into Jax's side. He laid his head on Jax's shoulder and smiled up at him. He really liked this man.

"Well…since you now know my body intimately, I guess I can tell you my last name." Ty acquiesced and informed, "It's Johnson."

"It's nice to meet you Tyler Johnson." Jax brushed strands of his hair off his forehead and reciprocated, "I'm Jaxon Markham."

Ty's grin slowly fell and he sat up, staring at Jax horrified. Yep, horrified was the perfect word for how he felt. His eyes grew wide with shock and his mouth fell open as he struggled not to pass out. He shot off the sofa, quickly standing as if he'd been burned. Oh fuck, this is Jaxon Markham? It can't be.

Wait a minute, Ty tried to calm himself. Maybe he wasn't the same Jaxon Markham Ty was thinking of. But…hell, it wasn't a common name; Jax had to be the Jaxon Markham Ty knew—well, knew of. When that appalling possibility raced through his mind, he suddenly remembered where he'd seen Jax before—the jacket of his latest legal-thriller novel, which Ty had read twice, and owned along with the six others Jax had written. Jax had sported a beard on the book jacket, and his hair had been longer, which is why he hadn't immediately placed him.

Jax was a famous writer, but that wasn't the worst of it. Jaxon Markham was also soon to be his… He closed his eyes and shook his head trying to ward off that unwelcomed thought. Horrified eyes sprang open, and he stared speechlessly at an obviously baffled Jax.

Oh shit, I had sex with Jaxon Markham! How fucked up is that?
Buy Links – Available on KU
Amazon US
Book Title: Finally Letting Go, Infinity #2
Author: C.J. Lynne
Publisher: Self-published
Cover Artist: C. J. Lynne
Genre/s: LGBTQ, Romance, Erotic
Length: 133,000 words/320 print pages
Blurb
Take What You Want…
Brandon Rosen is a man who refuses to admit what he wants—namely, a life with another man. Being gay just won't do. It will not go over well with his family, particularly his overbearing father. Thus, for years Brandon has tried to tamp down his attraction to men, refusing to entertain even the possibility that his other half might be a…him. That was the plan and it had worked wonderfully until he meets Simon Carter—an arrogant star swimmer and law school student who also happens to be the best friend of Brandon's first and only miserably-failed attempt at dating a man.
Simon is constantly in Brandon's face taunting him to admit he's gay. The more confrontations he has with the stunningly handsome man, the harder it becomes for Brandon to deny the part of himself he thought he'd buried years ago—the one that craves the touch of another man, and now not just any man…but Simon—the one person who hates his guts.
Simon Carter is self-assured, knows who he is and what he wants out of life. He's a no-nonsense kind of guy who will do anything to protect his loved ones, so when his best friend's asshole ex, Brandon Rosen, makes an unexpected reappearance in their lives, Simon is determined to keep Brandon from ruining his friend's new relationship. That will be easy to do—right? Simon thought so, but what he didn't count on was an insane attraction to the deeply closeted man.
Simon soon finds out there's just something about Brandon that reels him in, no matter how mightily he fights against it, making him question what kind of man he is to want anything to do with the person who once broke his best friend's heart? He doesn't know, but one thing quickly becomes apparent—he craves Brandon Rosen, and despite his better judgment, he intends to have him…consequences be damned.
Excerpt
Brandon watched mesmerized as Simon's mocking lips slowly lowered toward his. His parted in anticipation of touch and being

devoured, but before his silent wish was granted, he found the strength to push out of Simon's loose embrace and take a few steps to the side, ending all physical contact between them. He needed to stop this. He couldn't—wouldn't—give into the insane desire coursing through him…not for a man, and certainly not for this man.

"You need to leave me alone," Brandon firmly suggested, even though his heart was beating so loudly in his ears, it deafened him.

"Why?"

"Because, I've told you repeatedly that I'm not into men."

Simon laughed heartily and gave him a chastising look before accusing, "I've never met someone more into men than you, Blondie." Then he smugly coaxed, "Why don't you admit it? Things would be so much easier if you did."

They'd become that much more complicated, Brandon silently admitted. Having a relationship with a man would throw his world into complete and utter chaos—that was something he was determined to avoid at all costs. With that in mind, he straightened his spine and hardened his expression, and tamped down his overwhelming want for the man staring at him like he was a meal he couldn't wait to devour. Oh hell, I need to get out of here…now!

"If we're unfortunate enough to meet again, keep your damned hands to yourself," Brandon ordered and without waiting for a response, he jerked open his car door and got inside, slamming it shut behind him.

Just to fuck with him, Brandon was sure, Simon leaned down and rapped his knuckles on the dark tinted window. He waited a few seconds thinking over the pros and cons of lowering it, but eventually despite his good sense, he did just that.

"What?" he tightly asked the man staring down at him.

"What about my lips?" Simon flippantly asked in response to Brandon's previous statement.

"Fuck off," Brandon growled, raising his window again. When there was another knock, he sighed loudly before rolling it down a bit, not bothering to hide his irritation as he gritted out, "Now what?"

Smiling eyes danced over his face, lingering on his lips before Simon said the last thing he expected, "Nice car."

He frowned and uncertainly responded, "Thanks."

Simon placed a hand on the hood of the car, leaned in closer and, in a bedroom voice if ever he'd heard one, suggested, "Maybe one day soon you'll take me for a nice, long ride."
Buy Links – Available on KU
About the Author
C.J. is first and foremost an avid reader of romance. Nothing is better than watching two strong-willed people meet, connect and work through personal challenges while fighting to overcome internal and external obstacles to be together.
C.J. is a southerner who believes that love is love, and if you're ever lucky enough to find it, you should hold onto it with both hands and feet. C.J. writes love stories filled with emotion and hopes you—the reader—will enjoy them as much as C.J. enjoys creating them.
C. J. writes M/M romances with heart and heat. She believes that love is love and if you're ever lucky enough to find it, you should hold onto it with both hands and feet.
Social Media Links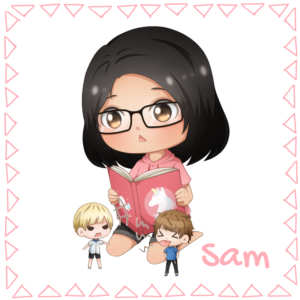 Fan de MM et plus particulièrement des single dads (ça marche aussi avec les oncles, les grands frères etc…) , des MMM et d'Urban Fantasy.