Book Title: A Gift-Wrapped Holiday
Author and Publisher: Amy Aislin
Cover Artist: LC Chase
Release Date: November 22, 2022
Genre: Contemporary M/M romance
Tropes: single dad, age gap (10 years), small town, found family
Heat Rating: 3 flames
Length: 69 000 words / 272 pages
It is a standalone story and does not end on a cliffhanger.
Buy Links
Blurb
Mal's first priority is giving his six-year-old son the best Christmas ever, a goal made trickier by a recent move to New England after losing his job. As a single dad, he's not looking for romance—especially not with a blond California boy ten years his junior.
After being ridiculed at the family business, Luca sets out to prove himself by opening an eco-friendly gift-wrapping store in a small town with a hard-on for Christmas that's about as far from LA as he can get. Out of his comfort zone in snowy Maine, love is the last thing on his mind.
But the magic of the season has other ideas. As Mal and Luca collide on wintery streets, will they let their first Christmas in Lighthouse Bay lead to happily ever after?
Content warning: stillbirth. Although it took place off-page and in the past, it is discussed on-page.
Excerpt
Mal slowed at the bottom of a driveway and nodded at the house. "This is me."
"I was wondering who lived here," Luca said, taking in the house's boxy structure.
"Why? Because it's hideous?"
That startled a laugh out of Luca. "Well . . . yes. It doesn't match the rest of the houses." The area just west of Christmas Lane housed Lighthouse Bay's historic homes, but this modern construction was decidedly not historic. Luca had passed it a couple of times on his evening gift deliveries and wondered what the owner had been thinking. "Why'd you buy it if you don't like it?"
"I'm not. I'm leasing."
Even so, Mal had gone all out with the decorations. Icicle lights hanging from the roof, flashing multicolored lights framed around each window, static white lights around a nine-foot-tall pine tree, and a lit-up reindeer family. He even had some sort of spotlights buried somewhere in the yard that swirled red and green snowflakes on the house in an unidentifiable pattern.
"Which is probably another reason I haven't unpacked," Mal continued. "I hate this place."
"Why lease it, then?"
Mal blew out a breath that ghosted the air in front of him. "The short version is that I was in a rush."
"And the long version?"
"The long version is something I'll have to give you another time."
Luca glanced at Otis. "I think he's asleep."
"Bet he gets a second wind as soon as I walk in the door." Mal's voice was a disgruntled grumble that Luca shouldn't have found as charming as he did. "Thanks for walking us home."
"Thanks for letting me. I like talking to you."
Mal's smile went lopsided. "I like talking to you too. Still want to do it again sometime? I promise not to feed you ice cream while it's below freezing outside. Real food only. Scout's honor."
Luca's armpits went damp despite the winter weather, and butterflies took flight in his belly. He dug his toe into the sidewalk. "You must really want to date me if you've asked me out twice in one week."
"Or I just want an adult to talk to for once," Mal said, a teasing tilt to his smile.
Luca stuck his tongue in his cheek and backed down the driveway, keeping his gaze on Mal's. "Or maybe you like me."
"Damn. And here I thought I wasn't being obvious at all."
The butterflies floated into Luca's throat. "Text me?"
"I will." The darkness enveloped Mal as he moved away from the sidewalk and into the shadow of the house, but Luca could still see the quirk to his lips. "Good night, Luca."
"Night, Mal."
Luca watched Mal and Otis head inside, waved at Mal through the glass-fronted door, then turned toward his own home only a couple blocks away, an extra bounce to his steps.
About the Author
Amy's lived with her head in the clouds since she first picked up a book as a child, and being fluent in two languages means she's read a lot of books! She first picked up a pen on a rainy day in fourth grade when her class had to stay inside for recess. Tales of treasure hunts with her classmates eventually morphed into love stories between men, and she's been writing ever since. She writes evenings and weekends—or whenever she isn't at her full-time day job saving the planet at Canada's largest environmental non-profit.
An unapologetic introvert, Amy reads too much and socializes too little, with no regrets. She loves connecting with readers. Join her Facebook Group to stay up-to-date on upcoming releases and for access to early teasers, find her on Instagram, or sign up for her infrequent newsletter.
Social Media Links
Blog/Website | Facebook | Instagram
Newsletter Sign-up | Facebook Group
Giveaway
Enter the Rafflecopter Giveaway for a chance to win
one signed paperback of A Gift-Wrapped Holiday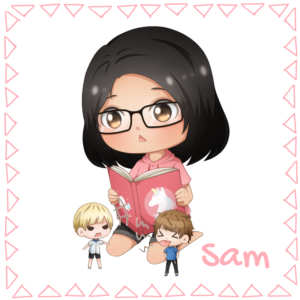 Fan de MM et plus particulièrement des single dads (ça marche aussi avec les oncles, les grands frères etc…) , des MMM et d'Urban Fantasy.