Release Blitz, Excerpt & Giveaway: Charlie Sunshine by Lily Morton
Close Proximity, Book 2
Sometimes love is a lot closer to home than you think.
Charlie Burroughs can't keep a man. All he wants is a good relationship like the ones he sees his friends having, but none of the men he picks ever work out. Despite him trying to be the perfect boyfriend, the men are either threatened by his looks or his epilepsy or a combination of the two. It's lucky that he has his best friend Misha to turn to. The two of them are closer than peas in a pod and fiercely loyal to each other. He can't imagine his life without Misha in it.
Misha Lebedinsky is the complete opposite of his best friend. Being the support system for his mum and twin sisters leaves Misha with neither the time nor the inclination for a relationship. Quick and frequent hook-ups are his favourite means of communication and any other pesky emotional needs he has are met by Charlie, who he's devoted to. He lives a life of happy compartmentalization with no intention of ever changing.
All of this changes when the two best friends move in together.
Being in close proximity means that they suddenly start to see each other in a very different light. But Charlie struggles when his drive to be the perfect partner clashes with the fact that he's in love with a man who knows every little thing about him. And even if he can get past that, can a relationship ever work with a man who'd need a dictionary to tell him what love means?
From bestselling author Lily Morton comes a love story about a sunny librarian who has relationship written all over him and a banker who doesn't even have it in his blurb. This is the second book in the Close Proximity series, but it can be read as a standalone.
---
Excerpt:
The car park is dark apart from the thin light that emanates from the security lamp over the door. Hearing footsteps, I spin round and then immediately relax when I see Misha coming towards me.
"Are you on your own?" he demands.
"Why, Mister Lebedinsky," I say in dulcet tones, fluttering my eyelashes. "Were you lying in wait to launch an attack on my virtue?"
"I'm about twelve years and ten miles away from a crack at that." I laugh, and he shakes his head. "Why is it so fucking dark around here, Charlie?"
"Because night has fallen." He stares beadily at me. "And the owner of the car park hasn't replaced the bulb in the security light."
"Have you told him that he needs to?"
"No, Misha," I say sarcastically. "I thought I'd leave it to him. Maybe if I send enough good thoughts over to Malaga, he'll realise and come straight home."
"I'm absolutely positive that librarians shouldn't be this snarky. Is there anyone in the building I can get to google it?"
I shove him. "We don't google," I say in a scandalised tone. "We utilise the skills that our very intensive library research course has taught us."
"And then what?"
I slump. "We google."
He laughs and holds out his hand for the cloth bag I'm carrying. I shake my head and hand it over, watching with satisfaction as he nearly drops it. "Fucking hell, have you got bricks in here?"
"Why would I be carrying bricks?" I ask, picking up my rucksack and moving over to the neatly parked and very expensive-looking silver Mercedes.
"I don't know. Who the fuck knows what librarians get up to?"
"We are a very cosmopolitan crew," I acknowledge.
"After picking you up from the staff Christmas do last year, I'm not entirely sure that cosmopolitan is the right word. Debauched would be nearer the mark."
"I told Bethany not to get Sue that extra Baileys," I say gloomily. "Can we not talk about it? I'm getting flashbacks."
He fiddles with my bag and grins at me. "More books? Do you, or do you not have a very nice iPad with all your books loaded on it?"
"I know." I sigh, climbing into the front seat after he clicks the locks and setting my rucksack at my feet. "I just can't resist a new box of books." He slides into the driver's seat after depositing my cloth book bag in the back, and I grin at him. "It's a bit like you resisting the last twink in a club at kicking-out time."
"Well, why didn't you say that?" he drawls. "Now I understand."
---
Enter the Giveaway:
To celebrate Lily's new release, we are giving you a chance to win your choice of any book from Lily's backlist! Three winners will be chosen!
Direct Link: http://www.rafflecopter.com/rafl/display/cc0f2a573/?
---
About Lily:
Lily writes contemporary romance novels, and specialises in hot love stories with a good dose of humour.
Lily lives in sunny England with her husband and two children, all of whom claim that they haven't had a proper conversation with her since she bought her first Kindle.
She has spent her life with her head full of daydreams and decided one day to just sit down and start writing about them. In the process she discovered that she actually loved writing, because how else could she get to spend her time with hot, funny men!
She loves chocolate and Baileys and the best of all creations – chocolate Baileys! Her lifetime's ambition is to have a bath in peace without being shouted by one of her family.
Connect with Lily:
Facebook | Lily's Snark Squad Facebook Group
Twitter | Instagram | Pinterest
Amazon Page | Goodreads | BookBub
---
---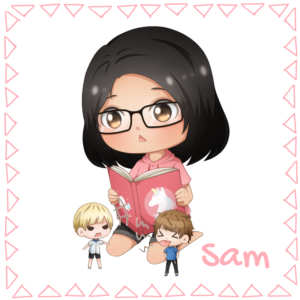 Fan de MM et plus particulièrement des single dads (ça marche aussi avec les oncles, les grands frères etc…) , des MMM et d'Urban Fantasy.