Release Tour & Excerpt: How to Forgive by Susan Hawke
LOVESTRONG, Book 6
Take one fabulous unicorn of a person… Grayson Davis came back to their hometown after college to help a new generation of kids who might be reliving their own past as a bullied young teen and LGBT teens who are struggling to find their identities in small-town USA. Taking a job as a youth counselor at The Rainbow Kids Foundation is their dream come true… even if it means working for the very man who once bullied them. So what if they can't forgive Clark Danvers for the past? They can peacefully coexist with Clark and that's good enough for Gray. As for their personal life, well… who needs one? They have family, friends, and their crazy cat Spike. As for everything else? Well, there's an app for that. Add one flirty, pansexual biker who's the opposite of an outlaw… Canaan "Wolf" Matthews isn't looking for love, let alone commitment. He's busy running a club of bikers who do their part to rescue kids from bad situations, help abused spouses escape, and accompany social workers into the rough areas when it's not a case for the cops but backup is a necessity. Meeting Gray while on his way home from a hookup—with the evidence clearly crusted on his shirt like a merit badge—isn't quite the meet cute Wolf would've wanted when he found the one person who could make his little pan heart go pitter-pat. Like everything else in his life, Wolf decides to roll with it and see what happens. To equal two people who might just be what the other needs. Gray only wants to have fun with Wolf. No strings necessary. So why do they keep reaching out to the annoyingly cute biker when things get dicey for a teen who's dealing with a situation that is far too relatable for Gray? Anxieties flare and forgiveness beckons as Gray starts to see their old nemesis, Clark, for the person he is today. Before Gray can plan a future, they need to make peace with their past. With Wolf's support, can Gray finally learn how to forgive and find their way to a full and happy life? This is the sixth book in the LOVESTRONG series about finding love and being yourself in a small town. Intended only for 18+ readers, this is an mm romance full of all the fun, laughter, and sweet feels you'd want from an S. Hawke book.

Excerpt:

After the laughter died down, Dana pulled a paper out of her apron pocket and passed it my way. « Wolf, this is for you. A cute little twink was desperately trying to get your attention. Poor thing was downright dejected. After I found out what was wrong, I explained that when you brothers get together it's sacred and promised to give you his number. » Nobody blinked an eye because it wasn't anything Dana hadn't done before when someone had asked about one of us. What did seem to surprise everyone was when I pushed it aside without looking at it. Josh leaned over to put the back of his hand against my forehead, as if checking my temperature. « No, no fever. How's your appetite, Wolf? I just want to know if we should call your doctor before rushing to the emergency room. » Rolling my eyes, I flicked the paper his way. « Ever think I'm just not looking for that right now? Here, you call the guy. I'm sure he'll be just as happy. » Josh tapped his fingers against the table. « You're scaring me, bro. If it was just this one, that would be one thing. But you've barely been watching the show, you turned that girl down who offered to buy you a drink when we got here, and I haven't seen you quietly trolling like you're planning who you're picking up when the rest of us leave. What's up with that? » Josh was on a roll now. « Wolf, tell me the truth. Are you dying? On a fourteen-day course of antibiotics? Please, tell me what I can do." Asher nodded solemnly. « Josh is right, Wolf. You've been turning down possible tricks from both genders. I'm trying to think when's the last time I saw you with someone. It's definitely been a minute. Everything okay? For real though, I'm not even playing. » Dana laughed but fortunately couldn't stay to help give me crap since she was needed at the bar. Mal watched her walk away then turned to me with a suspicious look. « I thought I was imagining things when I saw you talking to Kandi's kid at Becca's engagement party. And I could've sworn I saw you leaving together. Then I heard Becca on the phone with Gray before she left town and she was giving them hell for not saying why they'd left early or who they were with. Anything you care to share? » My eyes bugged out of my head as I glanced at the stage where Kandi was currently performing a Britney Spears number. « Oh, hell. I was so focused on my cutie that I didn't even think about their last name. So Grayson is Kandi's kid? » Rick looked concerned as he nodded. « Step kid, same difference. Tread carefully there. You do know they work for Clark too, right? And there's some bad history there? » I whistled softly, ignoring the part about Clark for now. I was too blown away by the Kandi connection. « Damn. They made a joke about the Venn diagram of all the people connecting us and they weren't wrong. Can you believe I had no idea who they were? I've probably passed them hundreds of times in town before I happened to notice them at Sally's a couple weeks ago." Shaking my head now, I had to laugh at my own idiocy. "I actually asked if they were new in town. God, no wonder they think I'm a schmuck. Well, that and I was obviously coming from a hookup. Turns out using your shirt in the dark to wipe cum then wearing it when you stop to grab coffee is a bad plan. Huh. So Gray is Kandi's kid. Small world. » « Like Rick said, tread carefully. » Mal sat up straighter, sounding like a stern stepfather himself. Kinda cute when you considered the fact that his stepdaughter was only six years younger than him and Asher. « I'm serious, Wolf. Gray is Becca's best friend. They aren't a one and done. If you treat them like your average trick, Mama Kandi will bitchslap your ass. » Shaking my head, I held both palms up. « Calm down. I get that I have a certain reputation, but that's just it. I'm not treating them like that at all. They got under my skin and I was the one who got ghosted. They put their number in my phone, and I've tried calling and texting for the past two weeks. But they aren't answering. A few times I've seen moving dots like they were typing a text, but nothing. It's been frustrating as hell. » Asher slapped the table as he guffawed. « Holy shit, you guys. I never thought I'd see the day that Wolf was the guy who can't take a hint. » Pouting, I picked at the label on my beer for a few moments. « I really like them though. I don't know why, but there's just something special about them. And not just because they didn't fall for my usual shit. They're the perfect blend of sass and snark. And so fucking smart. I'm telling you, I can't put my finger on it but Grayson Davis is unique and I like it. »
---

---
About the Author
As an avid reader and big romance fan myself, I love sharing the stories of the different people who live in my imagination. My stories are filled with humor, a few tears, and the underlying message to not give up hope, even in the darkest of times, because life can change on a dime when you least expect it. This theme comes from a lifetime of lessons learned on my own hard journey through the pains of poverty, the loss of more loved ones than I'd care to count, and the struggles of living through chronic illnesses. Life can be hard, but it can also be good! Through it all I've found that love, laughter, and family can make all the difference, and that's what I try to bring to every tale I tell.
I'm a happily married mom with one snarky teenage boy, and three grown « kids of my heart. » I'm more widely known for my mpreg writings as Susi Hawke; this new name is a departure from that. Whether written by Susan or Susi, the books are filled with that all-important love, laughter, and family I mentioned; the only difference is that this name has no male pregnancy. I look forward to sharing my stories with you, and to bringing more romance and laughter into this world that needs it so very badly.
Connect with Susan:
IG: https://www.instagram.com/authorsusanhawke FB: https://www.facebook.com/AuthorSusanHawke Bookbub: https://www.bookbub.com/authors/susan-hawke Newsletter: http://bit.ly/SusanHawkeNewsletter Audio: http://bit.ly/SusanHawkeAudio Reader Group: www.facebook.com/groups/TheHawkesNest Website: http://www.susihawke.com
---
---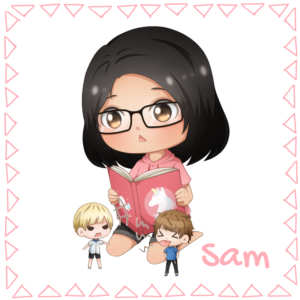 Fan de MM et plus particulièrement des single dads (ça marche aussi avec les oncles, les grands frères etc…) , des MMM et d'Urban Fantasy.