Release Blitz, Excerpt & Giveaway:
Midnight Heist
By Katherine McIntyre
Outlaws, Book 1
Grif's always followed the one rule in the high stakes business of heists: never fall for your mark. At least until he meets Danilo Torres…
Grif Blackmore's team of thieves, the Outlaws, take down wicked corporations and nab fantastic paydays. However, when their latest heist fails, they end up in debt to the mafia, which puts the pressure on for their next job targeting Torres Industries to go off without a hitch.
There's one problem. The CEO of Torres Industries, Danilo Torres, happens to not only be dead sexy but unaware of his company's corruption. When the sparks flare between Grif and Danilo, Grif can't help but fall for his mark.
Grif is left with a decision to make. Is he willing to throw it all away for the man who's caught his interest or is there a chance to play Robin Hood without losing it all?
---
Excerpt:

"Do you always roll the dice with your dates?" Dan asked, slipping into the seat opposite him. He began to fidget with his sleeves, as if they weren't already rolled all the way to his elbows. "I never gave you a yes or no—I could've no-showed."

"Instincts," Grif responded, lifting his glass for another sip of scotch. "You seem a decent sort, the kind of guy who'd follow up. And even if you weren't, I'm not opposed to grabbing a glass of scotch at my favorite bar solo."

"Am I that easy to read?" Dan asked, his careful eyebrows drawing together. A grin spread on his lips. "Let's put your instincts to the test. Order a drink for me."

The man was fucking adorable, which was a problem. Where at their business meeting he'd been competent and forthright, even in the five seconds they'd been on this date, Grif noticed the shift. This playfulness, the hesitant flirtation hadn't been there at the meeting, but he enjoyed it like a glass of fifteen-year Glenfiddich.

Grif couldn't help his grin in return. Kelly strolled over, smoothing the black apron she wore with the black tee and equally color-devoid pants. She gave Dan a cursory scan—he wore a Cartier watch with a black band, no obvious piercings, and not a strand of his hair was out of place.

"What'll you have?" Kelly asked, leaning against the side of the booth as she glanced to Dan. His date looked to him.

"Would you mind bringing over an Old Fashioned?" Grif asked. Kelly pursed her lips to try and hide her smirk as she nodded and headed off to the bar.

Dan crooked an eyebrow. "What makes you say Old Fashioned?"

"Bourbon's on the sweeter side, which by the way you massacre your coffee it's clear you like. You're careful about your appearance, meticulous, so no time for extravagant or ridiculous ingredients. Besides, the Old Fashioned is a classic with wide appeal." Grif leaned back, placing his arms on either side of the booth.

"Cheater," Dan responded, the grin reaching his eyes. "Was your next choice a rum and Coke?"

Grif snorted. "You've got way too much class to be a rum and Coke."

A blush darkened Dan's cheeks, and he glanced down at his hands clasped in front of him. Heaven and hell, he was the easiest mark to read on the planet—all his expressions brimmed right on the surface. Grif's stomach twisted with what might have been guilt if he hadn't divorced his conscience and ignored the alimony years ago.

"Business meetings I can do, but this stuff is way out of my depth," Dan confessed. "What are the usual date questions? Hobbies? Favorite dinosaur?" He ran a hand through his hair, casting him a helpless look.

A genuine smile stole Grif's lips before he could help himself. Too damned adorable. "Favorite dinosaur is a new one. I was always a big fan of the allosaurus. I'm not much of a Q and A kind of guy anyway. Relax, this isn't an audition."

"You sure?" Dan's forehead wrinkled. "My dating life has reached prehistoric status, so rusty is putting it mildly."

Grif shook his head. "Big-time CEO like you? I'd assume you'd be up to your ears in dick, pardon my French."

Dan's shoulders relaxed, and amusement gleamed in his dark eyes. "Trouble with one year under your belt at a company like Torres Industries is the learning curve is steep. Shockingly, running a company the right way requires a whole lot of extra legwork."

Grif's gaze traveled to the side of the booth where one of Torres's long legs stretched out. "Looks like it's paying off."

Dan shook his head, the grin widening on his lips. "That was pretty bad. Are you always this shameless?"

Grif shrugged, lifting his scotch to his lips. His gaze snagged on Dan's, and he didn't look away. "Only if I'm interested."
---
---
Enter the Giveaway:
To celebrate the release of Midnight Heist, Katherine is giving away a $10 Amazon Gift Card to one lucky winner!
Enter the Rafflecopter giveaway for your chance to win!
Direct Link: http://www.rafflecopter.com/rafl/display/cc0f2a57147/?
---
About the Author:
Strong women. Strong words.
Katherine McIntyre is a feisty chick with a big attitude despite her short stature. She writes stories featuring snarky women, ragtag crews, and men with bad attitudes—high chance for a passionate speech thrown into the mix. As an eternal geek and tomboy who's always stepped to her own beat, she's made it her mission to write stories that represent the broad spectrum of people out there, from different cultures and races to all varieties of men and women. Easily distracted by cats and sugar.
Want to be an active part of the 'making of' process? Join my FACEBOOK SQUAD
Want to read my books in advance? Join my ARC TEAM
or sign up for my PATREON for exclusive freebie reads and all sorts of awesome perks!
Connect with Amy:
---
---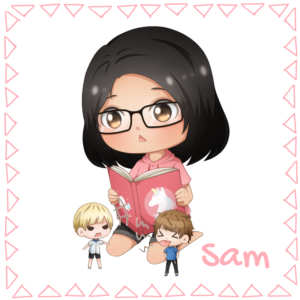 Fan de MM et plus particulièrement des single dads (ça marche aussi avec les oncles, les grands frères etc…) , des MMM et d'Urban Fantasy.