Book Title: #SlidingIntoMyDMs
Author: Nell Iris
Publisher: JMS Books
Cover Artist: Written Ink Designs
Release Date: February 17, 2021
Genre: Contemporary M/M Romance
Trope: Friends-to-lovers
Themes: Bisexual character, 40+ characters, old friends reconnecting
Heat Rating: 3 flames
Length: 21 998 words
It is a standalone story.
Buy Links
It all started with a DM on Instagram
Blurb
"Hi. I heard you've been sick."
Eddy Pennington is recovering from a severe bout of pneumonia when an old acquaintance, Moss, sends him a message on social media. They haven't spoken in years, but Eddy is pleasantly surprised. He always liked Moss even if they were never close friends.
Moss Fanning has no ulterior motive with his message: all he wants is wish Eddy a speedy recovery. He got over the crush he used to have on Eddy a long time ago.
They reconnect easily and have even more in common now. And when they meet in person, the attraction is instant. Will an innocent, well-meaning message on social media lead to something more? Something deeper? Something…everlasting?
Excerpt
I bump my shoulder against his. "You are fucking perfect, Moss Fanning."
His hand brushes against mine, sending a shower of sparks up my arm. "Nah."
"Don't fight me on this. You don't want to upset a poor, sick man."
Moss chuckles. "No indeed."
We continue a while in silence before he speaks again. "If you think I'm perfect, I guess that increases the chances of you considering this a date." It's a calm statement, casually put out in the universe, and I like that he shows no hesitation.
So I hook my pinkie with his. "I guess it does."
"Good."
Huh. I guess I'm on a date. My belly does a happy flip.
After a few more steps spent in silence, he slips his entire hand into mine. His rough palm sends a wave of happiness up my arm, coiling itself around my soul. Our shoulders brush and intensify the emotion.
I had no idea a simple walk could be so intense.
"Did you have a hard time finding work here?" I try to keep my tone casual, not wanting to betray what holding his hand does to me, not wanting to draw attention to the easy way a slow walk slipped into a date. I like the ease; I hate complicated and games and playing hard to get. I hated it in my twenties, and I hate it even more now.
"No. I come highly recommended. I'm a damned good carpenter."
"All the more reason to take you to Anne and Rosa."
He laughs. "You just want me for my skills, is that it?"
"Nu-uh."
"Then what?"
I stop on the path and make a show out of checking him out, slowly letting my gaze travel from his face, down his chest and rounded belly, lingering on his thighs—I have a thing for thick thighs—and then reversing course until I meet his gaze.
Moss shakes his head with a fond smile and tugs my hand to get me moving again. "You're not well enough for any of that."
"Nope. But I'm getting better."
"I'm glad. We can revisit that discussion when you're capable of walking faster than a quarter of a mile an hour."
"Hey!"
He laughs at my indignation, and Balderik joins in the fun by letting out a playful ruff.
I squeeze his hand. "In all seriousness, I like you for your no-nonsense attitude. It's very attractive."
"Thank you." His husky voice reverberates up my arm. "I appreciate you saying that. Not everyone likes blunt honesty, but I knew you could take it before, so I took a chance you still can."
"Oh, I can."
"Good."
All too soon we reach the end of the trail, and we're back where we started by Moss' SUV. Another car has parked in the clearing while we were walking, but there's no trace of the owners. The daylight is fading fast and so is my energy, and no matter how much I'd like to be able to continue our walk forever, I have to admit defeat.
Moss opens the car door for me and helps me inside. "I'm sorry," he says.
"What for?"
"You weren't ready for such a long walk."
I take his hand again, a shudder racing up my arm when his palm rasps against mine. "I was. I admit I'm tired and I'll probably fall asleep in the shower later, but this walk helped heal my soul and that's important, too."
"Yeah, sure. But—"
"Don't feel bad. Please. Just drive me home and promise we'll come back here soon. Promise my weakness didn't scare you off."
He brushes his thumb over the back of my hand. "I promise."
About the Author
Nell Iris is a romantic at heart who believes everyone deserves a happy ending. She's a bona fide bookworm (learned to read long before she started school), wouldn't dream of going anywhere without something to read (not even the ladies room), loves music (and singing along at the top of her voice but she's no Celine Dion), and is a real Star Trek nerd (Make it so). She loves words, bullet journals, poetry, wine, coffee-flavored kisses, and fika (a Swedish cultural thing involving coffee and pastry!)
Nell believes passionately in equality for all regardless of race, gender or sexuality, and wants to make the world a better, less hateful, place.
Nell is a bisexual Swedish woman married to the love of her life, a proud mama of a grown daughter, and is approaching 50 faster than she'd like. She lives in the south of Sweden where she spends her days thinking up stories about people falling in love. After dreaming about being a
writer for most of her life, she finally was in a place where she could pursue her dream and released her first book in 2017.
Nell Iris writes gay romance, prefers sweet over angsty, short over long, and quirky characters over alpha males.
Author Links
Blog/Website | Facebook Author Page | Facebook Profile
Twitter: @nellirisauthor | Instagram: @nell_iris | Goodreads
Giveaway
Enter the Rafflecopter Giveaway for a chance to win
one of five ebook copies from Nell's backlist.
Follow the tour and check out the other blog posts and reviews here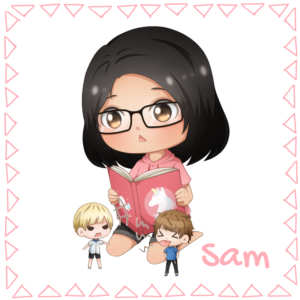 Fan de MM et plus particulièrement des single dads (ça marche aussi avec les oncles, les grands frères etc…) , des MMM et d'Urban Fantasy.